West Smoky Recreation Centre

Serving the Central Peace Region
4817 53rd. Ave. on the North end of Eaglesham
Across from the Eaglesham School

Phone: 780-359.3999 - Box 296 Eaglesham Ab. T0H 1H0
For bookings call 780-359-2121


Book ICE TIME For December 2020 and the 2021 season

Call Doug Greenfield: 780-359-2121

Ice is closed until November 2020

Hockey Teams
Book ICE TIME at the West Smoky Recreation Center

Ice Time available in the Peace River Region

Contact: ObscureMyEmail
Arena open:
See Arena Scheduling Below

West Smoky Recreation Centre Scheduling
Ice sports - Fitness Centre - Curling

Arena is open to the public: Come on down and enjoy.
Watch the fun of Beginner skating / Shinny Hockey / Pond Hockey / Curling / Co-Ed hockey / Stallions hockey.
Bring the family and have some fun!
Refresh this page each visit to see additions or changes.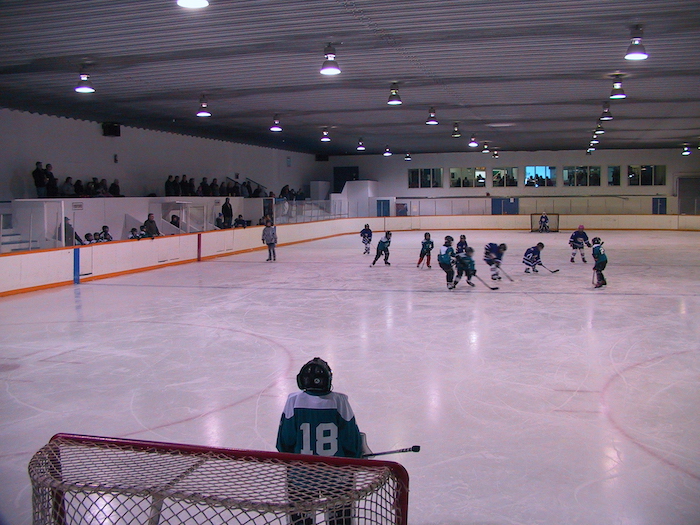 WSRC Fitness Center is open
Fitness Room is open to members 24 / 7
Memberships are available:
Monthly: $35.00 ea.
Annual: $125.00 ea.
Family: $250.00
(Scroll Down)

For membership Call Doug Greenfield
780-359-2121
arena (at) eaglesham.biz

Fitness Center patrons must be accompanied by another person over 18 yrs.

Boots off in the Fitness Room please



While we are under Alberta Stage 2 reopening
Social distancing is in effect.
Please use hand sanitizer before using equipment

Online EXERCISE CLASSES are Available


Tabata HIIT Training! (for ages 16+)

Train with ACE certified group fitness instructor and fitness enthusiast Deanna Proach.

Low impact, high intensity interval training, designed for people of all
fitness levels. Exercises are designed to build strength, endurance, flexibility and help you feel more energetic in your everyday activities.

Contact Deanna at deannaproach@gmail.com or 604-989-1835 to register.

To learn more, visit www.onestepfitness.net or follow her on Instagram @1_step_fit

Have fun while exercising to music




Back to TOP

2020 / 21 Ice Arena Schedule

2020 / 21 Arena Season

Due to the outside temperature - the ice sports are finished for this season. The ice will be back in again in November 2020.
March 10, 2020

Stay tuned for program changes during the season.
Remember to refresh / reload your page to see changes.
(Scroll Down)

Sundays: Arena can be rented for private use: Call Doug @ 359-2121 / ObscureMyEmail

Mondays:
Can be rented


Tuesdays :
Eaglesham School: 11-11:30 Grades 4/5/6
12:45 - 1:25 Grades: 1/2/3
2:00 - 3:15 Jr/ Sr High.
1:30 - 3:00 Canskate
Pond Hockey: 16:30 - 17:30
Stallions Hockey: 8:00 PM

Wednesdays:
Shinny Hockey All ages 7:00 - 10:PM


Thursdays:
Eaglesham School: 11-11:30 Grades 4/5/6
12:45 - 1:25 Grades: 1/2/3
2:00 - 3:15 Jr/ Sr High.

Stallions Hockey: 8:00 PM


Fridays:
Pond Hockey: 16:30 - 17:30
1:30 - 3:00 Canskate
Shinny Hockey All ages 7:00 - 10:PM


Saturdays:
Days can be rented:
Family Skate - Shinny Hockey All ages 6:30 - 10:00 PM


Can Skate Info Call Martine: 780-359-2448
Or Andrea: 780-359-2709
* No age requirements.
* Parents must be on ice for very small children.
* Registration on 1st day of class.
* Payment required at registration. Cash or cheque.
* Please bring Alberta Health Care # for Registration.
Questions? Contact Andrea 780-864-8418

Intro to Hockey (Pond Hockey) info Call Martine: 780-359-2448
Or Andrea: 780-359-2709

Grades1–6
* Geared for kids who are already able to skate
forwards, backwards, and stop on command.
* Kids will enhance their existing skating skills and be
introduced to stick handling, puck control, passing,
receiving, and shooting through exciting drills.
* Hockey stick, Hockey gloves, and full face mask
required
* Registration on 1st day of class.
* Payment required at registration. Cash or cheque.
* Please bring Alberta Health Care # for Registration.
Questions? Contact Andrea 780-864-8418


Back to TOP
Co-Eds Hockey Schedule 2019
Stallions Hockey Schedule 2019
Membership and Rental Fees
West Smoky Recreation Centre Membership and Rental Fees
(Scroll Down)

Can Skate - $100.00
Pond Hockey - $200.00

Curling membership: $187.00
Student curling: $50.00

Skating membership: $50.00
Adult skating membership: $100.00
Family skating membership: $200.00

Shinny & drop-in skating / curling fees $5.00

Fitness Centre Drop in fees, $5.00
Memberships: Monthly $35.00 or $125.00 yearly
Family membership: $250.00

Student Complex Membership $125.00
Adult Complex Membership: $280.00
Family Complex Membership: $475.00

Ice Rental Fees
Local Minor Sports: $62.00 hr.
Outside Minor Sports: 100.00 hr.
Adult Teams: 150.00 hr.
Tournaments $150.00 hr.
Family functions: $125.00 hr.

Meeting room rental:
Party $95.00 per function.
Corporate $125.00 per function.
Full Facility: $1250. per day

GST is applicable and included in the price.

Contact Cliff Garrett… 780-359-2512

Back to TOP